US Open Brass Band Championships
Now Taking Applications for 2017!
All bands are invited to participate in the U.S. Open Brass Band Championships and must complete and submit the following. Entries will be taken on a first come first serve basis until all performance slots are full, so please send in your entry forms as soon as possible.

Registration Forms
Important Dates
2017 US Open Brass Band Championship - November 18



Band Registration Form and $300.00 Registration Fee - Due by Aug 1



Program Requirements - Due by September 25



Member Registration Form and Payments - Due by September 25



Conductor Scores of Contest Program - Due by October 15



Buskers Registration Form - Due by October 15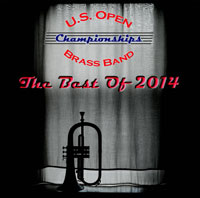 SPECIAL CD CLOSEOUT SALE !!
Re-live the memories. All "Best of" CDs from the US Open 2003-2014. Sale price of $10.00 each, including postage.
*************
For the real brass band nostalia buff we have a limited number of Tee shirts from past years. Please call for sizes and available years. Bargain priced to sell. Call 262-490-5221.