About the U.S. Open Brass Band Championships
The U.S. Open Brass Band Championships is an annual one-day invitational contest event for traditional brass bands from around the nation - and around the world! This year's event is scheduled to take place in St. Charles, Illinois, a western suburb of Chicago.
Promoting the Brass Band in North America
The goal of this competition is to encourage the further growth and development of the brass band movement in North America by providing a unique and exciting forum for the participating bands and by promoting the highest standards of performance and entertainment.
Entertainment Contest Format
Towards this end, the U.S. Open is an entertainment contest in format, which is unique among brass band contests in North America. No test piece will be required. Instead, each band will perform a 25-minute set of music of their choosing. Standard brass band instrumentation is required. Judging will be open, and the adjudicators will be among the finest and most experienced available.
Prizes Awarded
Along with a cash prize and trophy, the winning band overall will be crowned U.S. Open Champions, while awards and prizes will also be offered in several other categories, including 2nd Place, Most Entertaining, Best Performance of a March,Best Featured Soloist, Best New Composition or Arrangement for Brass band and Most Outstanding Percussion Section.
Buskers Contest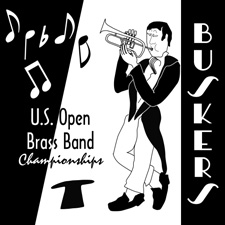 Unique among brass band contests is the presentation of the Buskers' Contest. Bands present small ensembles or soloists to showcase their unique and individual talents in new and creative ways. busker groups perform between the full band performances, keeping the entertainment flowing and the audience engaged. a "Mystery Busker Judge" will decide the winner of this event and that group will receive the contents of the Busker Top Hat, collected at the Busker Preview and during the day.
Vendor Market Place
The U.S. Open features vendor exhibits from the highest quality and most respected names in brass and percussion as well as a vast selection of printed and recorded music. Previous sponsors and vendors have included Besson, Kanstul, Getzen, Smith-Watkins, Dennis wick, Yamaha, Brasswind Research, The Salvation Army, and many others. This is a great opportunity to check out the best in brass music, recordings, instruments and accessories. Be sure to stop by the Market Place in the commons.
Awards Banquet
The perfect ending to an exciting day. After the competition the bands retire to a cocktail reception followed by an awards ceremony and banquet.